Shell thumbnails how to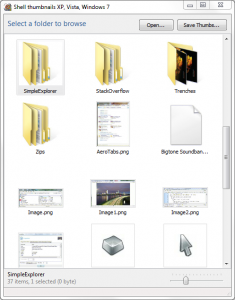 Well I needed to add thumbnails view to my explorer and had some serious problems finding out how to do it. This is more or less what I ended up with. Hope you find it useful. If you improve the code or have another solution I would love to hear about it and maybe post it here.
The code is not perfect and I am sure a lot of tuning can be added but this is a good start. What works in Vista and Windows7 does not work in Xp and some results are different in all versions so it is no easy task I think.
Download Sample project (515kB)